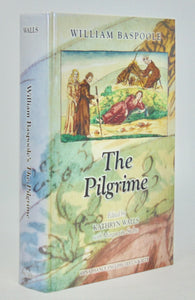 Baspoole, William. The Pilgrime (Medieval and Renaissance Texts and Studies, vol. 337); Edited by Kathryn Walls with Marguerite Stobo. Temple, Arizona: Arizona Center for Medieval and Renaissance Studies, 2008. ISBN: 9780866983853. [7813]
Pictorial hardback, 6 x 9 inches, xxiv., 558 clean and unmarked pp., illustrated. As new. Hardcover.

This work was originally written in French (as Le Pelerinage de la vie humaine) in the 14th century by the Cistercian monk Guillaume de Deguileville, and translated into English sometime in the early fifteenth century as The Pilgrimage of the Lyfe of the Manhode.
"Then, in the early seventeenth century, this fifteenth-century translation was modernized and revised - by a certain William Baspoole - as The Pilgrime." - Introduction.

"The full set of twenty-nine manuscript illustrations are reproduced in this edition of a text that circulated only in manuscripts - one of which was presented to James II's Secretary of Ireland in 1688. The Pilgrime has never before been reprinted." - publisher.