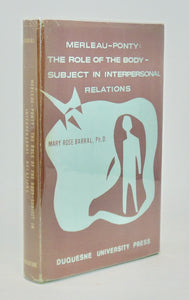 Barral, Mary Rose. Merleau-Ponty: The Role of The Body-Subject in Interpersonal Relations. Pittsburgh, PA: Duquesne University Press, 1965. [2981]
Green cloth hardcover, former owner's signature on the ffep, rest clean and unmarked. Good original dust jacket with edge-wear at the ends of the spine panel, spine panel a tad sunned, now in a clear wrapper. Very good in good dust-jacket. Hardcover.

"In this work the author studies Merleau-Ponty's thought with regard to man's relation to himself, to the world and to others, as directly linked with the fact that man is an embodied spirit revealing himself through his corporeal being. The body is the condition for man's perception of the world, of others, and of himself as subject." - publisher.