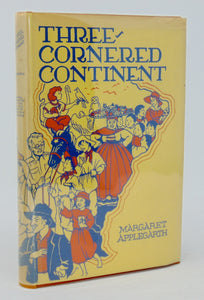 Applegarth, Margaret T. Three-Cornered Continent. Cambridge, Massachusetts: The Central Committee on the United Study of Foreign Missions, 1935. [7524]
Orange and blue cloth with dust jacket 5 1/2 x 7 1/2 inches, binding near fine, dust jacket with light edge-wear, now in a clear wrapper. 127 clean pp., folding color map, several illustrations from photographs. Very good in good dust-jacket. Hardcover.

A collection of stories about life in South America designed to inspire children to understand the children of that continent and to inspire them to pray for missionary work.

"We are sure that the children who read or listen to these vivid and fascinating stories by Mrs. Applegarth will want to hunt up their maps and try to understand more about the boys and girls in the ten Republics of that Other America." - Foreword.