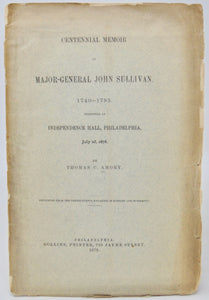 Amory, Thomas C. Centennial Memoir of Major-General John Sullivan, 1740-1795, Presented at Independence Hall, Philadelphia, July 2d, 1876. Philadelphia: Collins, Printer, 1879. [8753]
Gray printed wrappers, some splitting at the fold and chipping at the edges, 9 3/4 x 6 1/2 inches, 17 unnumbered pp. Fair. Pamphlet.

On offprint from the Pennsylvania Magazine of History and Biography.
Major-General John Sullivan is probably best remembered as half of the Sullivan-Clinton Expedition against the hostile Indians of New York state in 1779. As this biographical account relates, he was also a member of the Continental Congress from New Hampshire, and one of the brigadiers who took command of the army besieging Boston in 1775. He helped to evacuate the American army after the failed invasion of Canada, was taken prisoner on Long Island after giving brave and constant leadership under fire, and soon released by exchange. His command was part of the Delaware crossing that surprised the Hessians at Trenton and led at the forefront in the success at Princeton. Sullivan was in command on the right wing at Brandywine and was a key commander in the battles & skirmishes in the area (there is some lengthy treatment of Brandywine in the Memoir). Sullivan was at Valley Forge, and was afterwards in command at Providence & at Newport, Rhode Island. It was after these battles that he was sent on the expedition in Western New York, in retaliation for the massacres at Wyoming and Cherry Valley. Due to sickness and wounds he resigned his command afterwards, and was chosen again for Congress. After he left Congress in 1781 he served New Hampshire in several different military and civil posts.