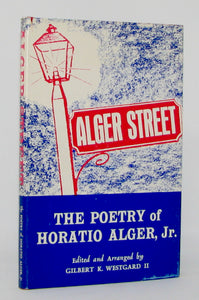 Alger, Horatio, Jr.; Westgard, Gilbert K., II [editor]. Alger Street: The Poetry of Horatio Alger, Jr. Arranged and Edited by Gilbert K. Westgard II. Boston: J. S. Canner & Company, Inc., 1964. First Edition. [6300]
Inscribed and signed by the author on the title page.
Red cloth, 112 pp., book is in fine condition. Dust jacket has one small closed tear at the top edge, and is now in a clear wrapper. Fine in very good dust-jacket. Hardcover.

A collection of 56 poems originally published in various 19th-century publications.