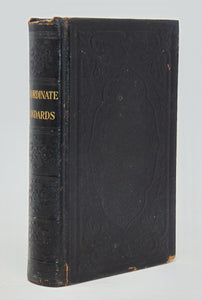 United Presbyterian Church. The Subordinate Standards of the United Presbyterian Church in North America; Published by Authority of the General Assembly. Pittsburgh: United Presbyterian Board of Publication, 1906. [7519]
Black blindstamped leather binding with gilt titles to spine, top of backstrip worn even with the text block, some wear to the edges with the corner tip of the bottom front cover worn through. 4 3/4 x 6 7/8 inches, page edges speckled, 708 clean pp., index, tight. Good. Leather bound.

The full texts with Scripture references and marginal explanations. Some sections have side-by-side comparisons of the Confession of the United Presbyterian Church statement and the Westminster Confession of Faith on the same subject.