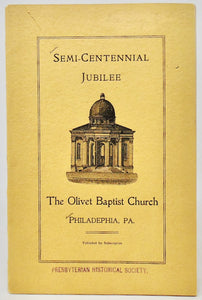 Charles, George H. 1856-1906 October Seventh Semi-Centennial of The Olivet Baptist Church: Some Chronicles of the First Fifty Years of our Life and Labor. Philadelphia: [The Church], 1906. First Edition. [9126]
Yellow card wrapper, 8 3/4 x 5 3/4 inches, ex historical society with stamps & markings, short closed tear to front. Good. Paperback.

A history of the first 50 years of the church, written by the then-current pastor.