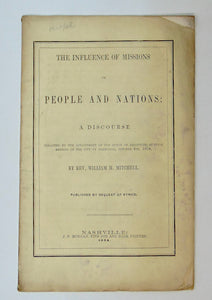 Mitchell, William H. The Influence of Missions on People and Nations; A Discourse Preached by the Appointment of the Synod of Nashville, at their Meeting in the City of Nashville, October 4th, 1854. Nashville, TN: J. F. Morgan, Fine Job and Book Printer, 1854. First Edition. [7613]
Soiled printed wrapper, 6 x 9, thin chip top right corner of front. 29 clean pp. Good. Pamphlet.

A sermon on Isaiah 35:1, "The wilderness and the solitary place shall be glad for them; and the desert shall rejoice and blossom as the rose."
Mitchell speaks of the missionary efforts in China, the Sandwich Islands, New Zealand, and India. He concludes with an appeal comparing his hearers's efforts to help the starving Irish to the need to help the missionary effort. The Irish potato famine extended from 1845 to 1852, with many Irishmen emigrating to the United States.
"And will not you, who evinced your compassion for, and gave substantial demonstration of your sympathy with, the famishing sons and daughters of Ireland - will not you manifest your sympathy for the perishing heathen?" - p. 28.