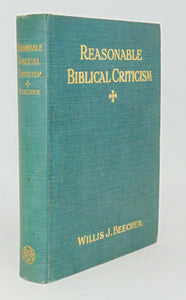 Beecher, Willis J. Reasonable Biblical Criticism. Philadelphia: The Sunday School Times Company, 1911. First Edition. [9242]
Green cloth with bright gilt titles, 8 x 5 3/4 inches, 335 unmarded pp., tight. Tidemark in the margins of the last 100 pp. Good. Hardcover.

The author desires to make a study of the subject that is appealing to the average reader. He wishes to fill "the need of so setting forth the orthodox ideas tht they shall appeal to the thinking of the present generation, and shall make the study of the Bible a live study."

Willis Judson Beecher, D.D., b. 1838 at Hampden, Ohio; graduated at Hamilton College 1858, and at Auburn Theological Seminary 1864; became professor of moral science and belles-lettres in Knox College, Ill, 1865; professor of Hebrew language and literature in Auburn Seminary 1871. He also held pastorates in the Presbyterian church. - Allibone.