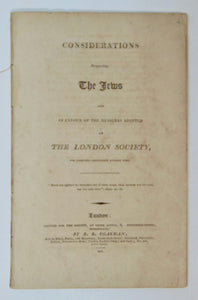 A. L. O. I. [A Lover of Israel]. Considerations Respecting The Jews and in favour of the measures adopted by The London Society, for promoting Christianity amongst them. London: Printed for the Society, by B. R. Goakman, 1811. First Edition. [8413]
Removed, no wrapper, 5 x 8 inches, 52 clean pp. Good. Pamphlet.

Worldcat records 9 copies in institutional holdings.

The author contends that the Jews are still a distinct people, and that after their time of humiliation is past, God will restore them.
"Let us briefly examine the causes of their affliction, and then their prospects of Divine mercy, and of happier days yet in store for them." The chief cause of their affliction, according to the author, is their murder and rejection of Jesus Christ. The scriptures, however, contain unfulfilled promises of their restoration to the true faith, and the prophecies of Daniel and others point to a time when these will be fulfilled. The author says that the work of the Society is evidence that the tide is turning, and that the Jews will come to Christ.