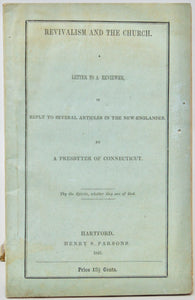 [Coxe, Arthur Cleveland]; A Presbyter of Connecticut.  Revivalism and the Church. A Letter to a Reviewer, in reply to several articles in The New-Englander. Hartford: Henry S. Parsons, 1843. First Edition. [3332]

Printed wrappers, 7 1/2 x 5 inches, 45 pp., some foxing, a few leaves with small damage bottom corner. Good. Pamphlet.
Roberts, Revival Literature: An Annotated Bibliography no. 1281. "A defence of Roman Catholicism against the tenets of revivalism."
The author, however, was Protestant Episcopal, and became bishop of Western New York in 1865. When he mentions "Catholicity" in this pamphlet, he does not mean Popery. The author is defending the Anglican communion from charges that they preach another gospel than that of revivalists, labors to show that the framers of the Saybrook Platform professed doctrinal agreement with the theology of the Anglican church, that the formularies and traditions of the Anglican church are not another gospel, and warns against the extreme individualism that sometimes accompanies revivalism. 

Arthur Cleveland Coxe (1818-1896), second Protestant Episcopal bishop of Western New York.  You may remember him as one of the editors of the Ante-Nicene Fathers series published by the Christian Literature Company in the 1880's.  He was also a hymn-writer, theological writer, and contributed to the periodicals of his time.