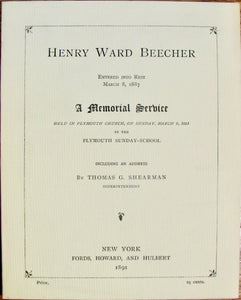 Shearman, Thomas G. Henry Ward Beecher: Entered into Rest March 8, 1887. A Memorial Service held in Plymouth Church, on Sunday, March 8 1891, By the Plymouth Sunday-School. New York: Fords, Howard, and Hulbert, 1891. 1st . [325] 
Fine clean condition. Stiff paper wrapper, 7 1/4 x 6 inches, 44 pp. plus (3) publisher's catalogue. Very good. Pamphlet.

The first 11 pp. are a record of the proceedings, while pp. 12-44 are the address by Shearman. He gives the life, accomplishments, and character of Beecher in his address.

Henry Ward Beecher (1813-1887), son of Rev. Lyman Beecher, born at Litchfield, Connecticut. He graduated at Amherst, 1834, and at Lane Theological Seminary in 1837. Beecher served as pastor for a short time at two Presbyterian churches in Indiana before accepting the call to the Plymouth Church (Congregational) in Brooklyn, N.Y., in 1847.

"Beecher attained to the position of the most popular and widely known preacher in America. As a public lecturer he was no less successful. In his sermons he disregarded conventionalities both in subject and manner. His wit and humor appeared in his preaching, which, nevertheless, was earnest and edifying, and revealed a great character, sincere and reverent; his public prayers in particular were truly devotional…In later life the development of Beecher's mind led him to desire a freedom which he thought could not be attained within strictly denominational lines, and, actuated also by the wish not to compromise his brethren by alleged heresies, in 1882, with his church, he withdrew from the Congregational Association to which he belonged. The chief points of his divergence from the orthodox position of the time related to the person of Christ, whom he considered to be the Divine Spirit under the limitations of time, space, and flesh; to miracles, which he considered divine uses of natural laws; and to future punishment, the endlessness of which he denied, inclining to a modification of the annihilation theory." – Schaff-Herzog.