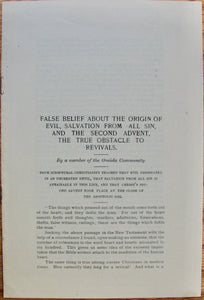 Seymour, H. J. False Belief About the Origin of Evil, Salvation from all Sin, and the Second Advent, the True Obstacle to Revivals. NP: NP, 1901. [5552]
5 1/2 x 8 1/2 inches, 10 pp. stapled pamphlet, clean. Very good. Pamphlet.

Henry J. Seymour, d. 1907, likely one of Noyes's first followers, as he married Tryphena Hubbard within the community in either 1848 or 1849. The marriage was a source of scandal and arrest once the young girl's father found out about the sexual practices of the community. "One of the few loyalists who followed John Humphrey Noyes to Canada following the community's dissolution in 1881." - Lorne Bair Rare Books.

"True Scriptural Christianity teaches that evil originated in an uncreated devil, that salvation from all sin is attainable in this life, and that Christ's second advent took place at the end of the apostolic age." - p. 1.