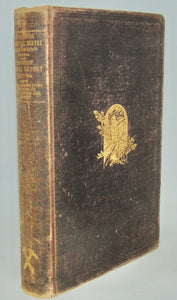 Walcott, Charles D. ; Day, David T. Nineteenth Annual Report of the United States Geological Survey to the Secretary of the Interior, 1897-'98: Part VI. - Mineral Resources of the United States, 1897; Metallic Products, Coal and Coke. Washington : Government Printing Office , 1898. First Edition. [9154]
Maroon cloth with gilt titles & vignette, 11 1/2 x 8 1/4 inches, binding scuffed and dull. viii., 651 clean pp., plus 9 plates. Fair. Hardcover.

This volume covers Iron Ores, American Iron Trade, Foreign Iron Trade, Manganese Ores, Gold and Silver, Copper, Lead, Zinc, Aluminum. Quicksilver, Nickel and Cobalt, Antimony, Chromic Iron Ore, Platinum, Coal, Coke.