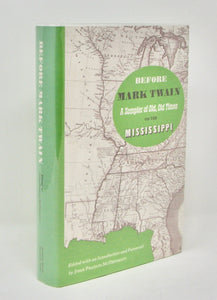 McDermott, John Francis [editor]. Before Mark Twain: A Sampler of Old, Old Times on the Mississippi. Southern Illinois University Press, 1968. First Edition. [6282]
Gray and teal cloth, binding fine, dust jacket fine, text is clean and unmarked. 6 1/2 x 9 1/2 inches, xxxiii., 298 pp., illustrated. Fine in fine dust-jacket. Hardcover.

One of the Travels on Western Waters series. Thirty-seven selections from early 19th-century writings on the Mississippi River.

"Mr. McDermott presents a sample of old times on the Mississippi, which brings to life the color, the variety, and the adventure of riverlife in nineteenth-century America. Richly illustrated with old block prints dramatizing the activity that gives riverlife its special quality, the book is in the language in vogue a century ago by people who knew the river and told of pre-Civil War life and travel between St. Louis and New Orleans." - publisher.