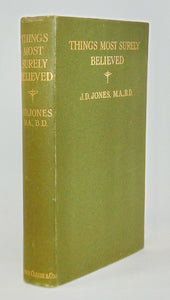 Jones, J. D. Things Most Surely Believed. London: James Clarke & Co., (1908). Second Impression. [8961]
Green publisher's cloth with bright gilt titles, 7 1/4 x 5 inches, 224 clean pp., 36 pp. publisher's catalogue, tight. Very good. Hardcover.

A series of sermons that follows the outline of a basic creed: The Existence of God, The Divinity of Christ, The True Humanity of Jesus, The Resurrection, The Second Advent and Judgment, The Holy Ghost, The Holy Catholic Church, The Communion of Saints, The Forgiveness of Sins, and The Life Everlasting.

John Daniel Jones (1865-1942), Welsh Congregational minister. "Earning the nickname 'Archbishop of Congregationalism,' J. D. Jones was one of England's most popular preachers at the turn of the century. Although he traveled the world and preached alongside friends such as D. L. Moody and P. T. Forsyth, Jones remained a minister at his Richmond Hill Church for almost 40 years. It is at that pulpit where the bulk of his most popular sermons were delivered." - logos online.