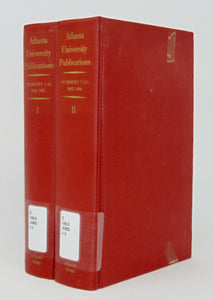 DuBois, W. E. Burghardt [editor]. Atlanta University Publications (2 volume set); Nos. 1-11, 1896 -1906. New York: Octagon Books, Inc., 1968. [8263]
Two volumes in red cloth, facsimile reprint in good-quality bindings. Former library set with standard library markups. The bindings have some remnants of cello tap that once held book wrappers in place. Texts are clean. Good. Hardcover.

Contents:
Morality of Negroes in Cities
Social and Physical Conditions of Negroes in Cities
Some Efforts of American Negroes for Their Own Social Benefit
The Negro in Business
The College-Bred Negro
The Negro Common School
The Negro Artisan
The Negro Church
Some Notes on Negro Crime
A Select Bibliography of the Negro American
The Health and Physique of the Negro American

A collection of significant presentations on the American Negro at Atlanta University between the years 1896 and 1906.